What's New
🛠️ In Development
We're working on better sharing options for Microsoft Teams
We're working on code syntax highlighting and custom iframe embeds
▶️ Nov 1 - Dec 1, 2022
👉 We added dark mode, choose your side carefully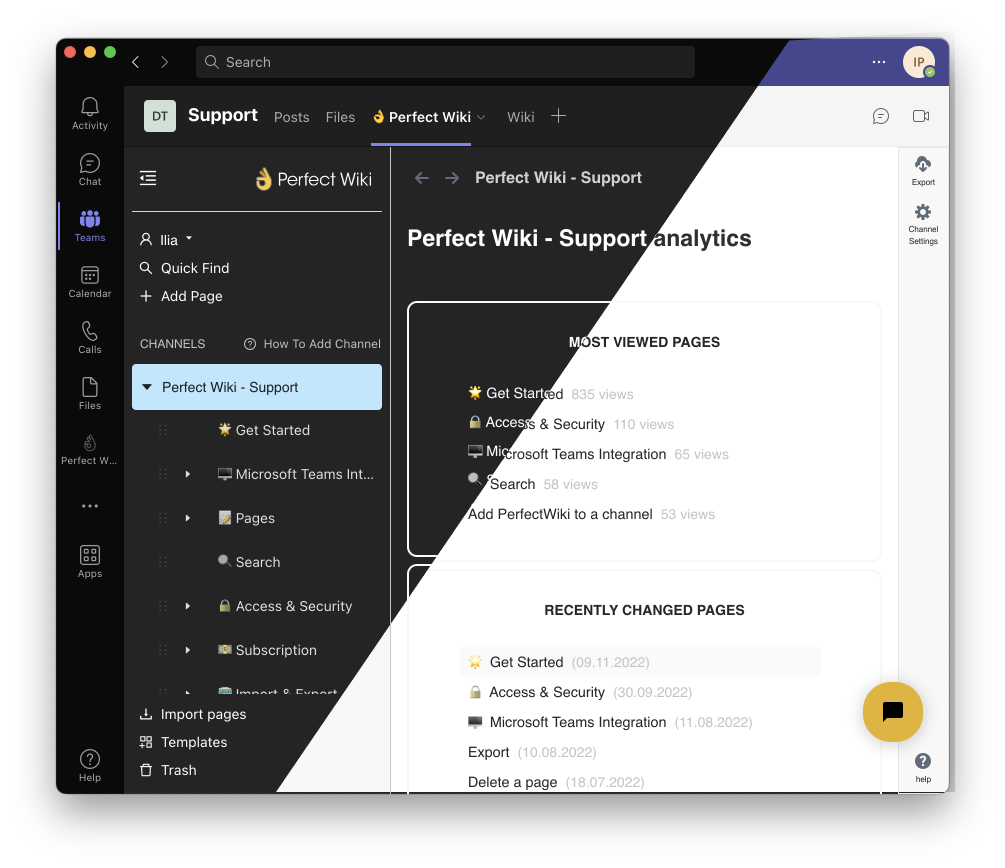 ▶️ Oct 1 - Nov 1, 2022
👉 Perfect Wiki works inside Outlook & Office 365
👉 We added backup functionality
👉 We added company branding feature
▶️ Sep 1 - Oct 1, 2022
👉 We added internalization, Perfect Wiki supports English, German, Spanish, French, Japanese, and Chinese
👉 We added pages copying between channels
▶️ August 2 - Sep 1, 2022
✏️ Get a free user license for sharing a post on LinkedIn
Our free license includes only 3 users, but you can extend it for free! Share a LinkedIn post and get a one more free license.
👉 New Feature: Integration with Lucid
You can embed flow charts and diagrams right into Perfect Wiki pages. See it in action in "Templates" → "Embeddings" → "Embed Flowcharts and Diagrams from Lucid"
👉 New Feature: Main Menu gets new design
We updated style and look of main menu, hope you like it 😉
👉 New Feature: Bulk export to PDF
Content of any channel can be exported to a set of PDF files in one click.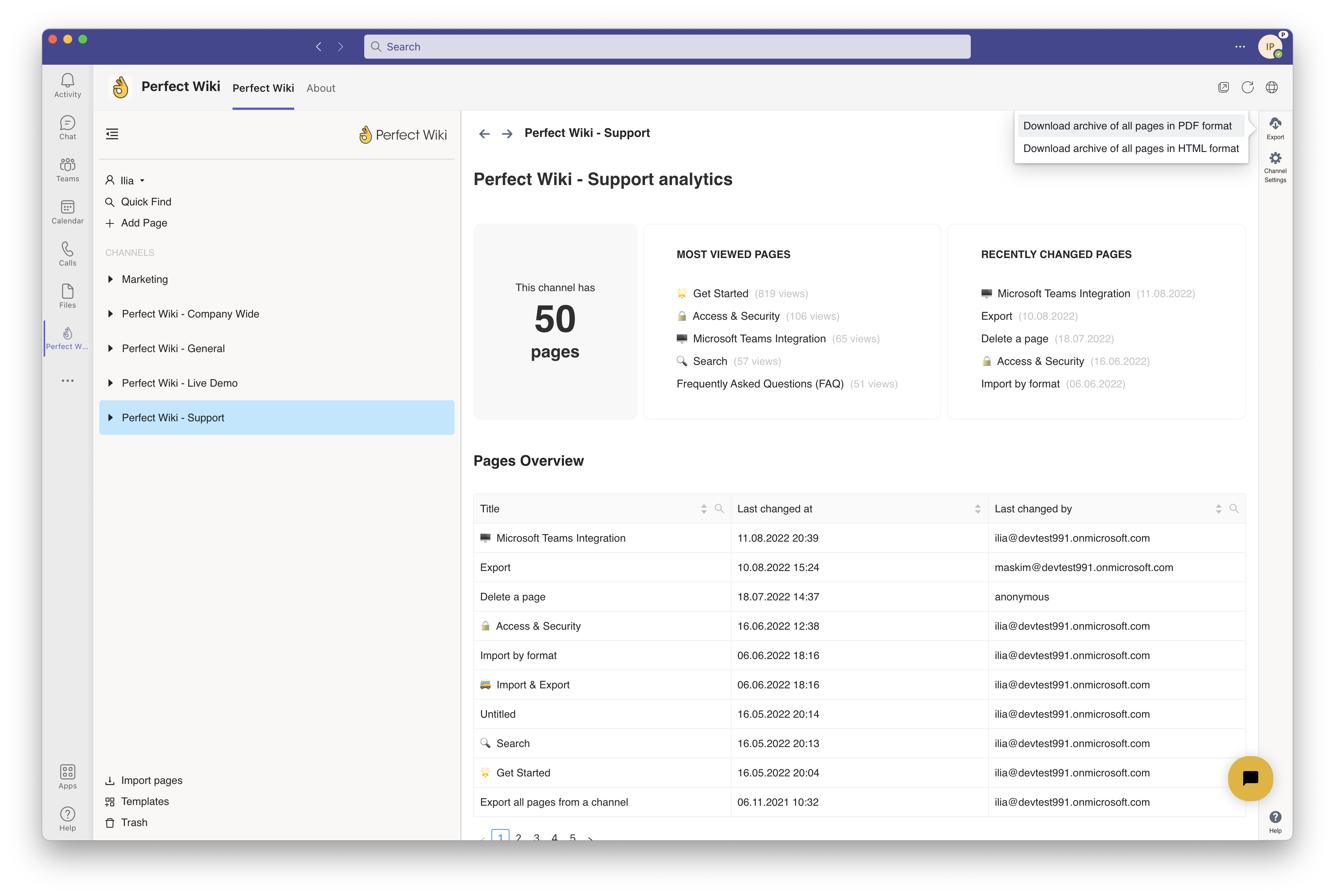 ▶️ July 15 - August 1, 2022
👉 New Feature: Ability to rename channel
Any channel can be renamed. Go to "Channel Settings" to do it.
👉 New Feature: Improved PDF export
Export to PDF became even better. We added page number, version number and author id to the footer of every page, furthermore we generate Table Of Contents for your PDF's.
▶️ July 2 - July 15, 2022
👉 New Feature: Ability to delete channel
Be careful with this feature. It will delete all pages from your channel and channel itself.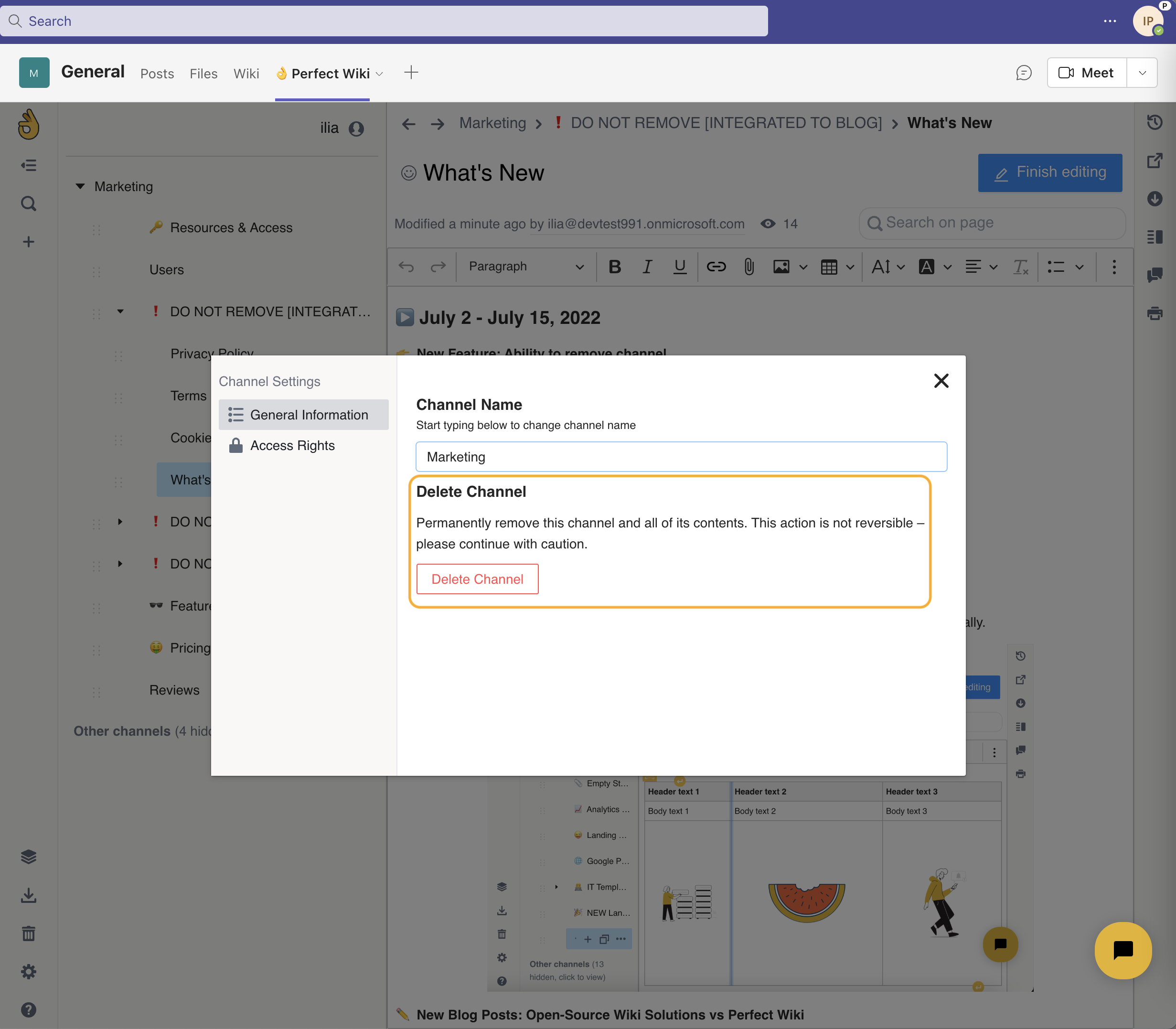 👉 New Feature: Granular access settings
To make it easier to specify access rights to pages in a channel we updated Access Rights settings. You can find them under "Channel Settings".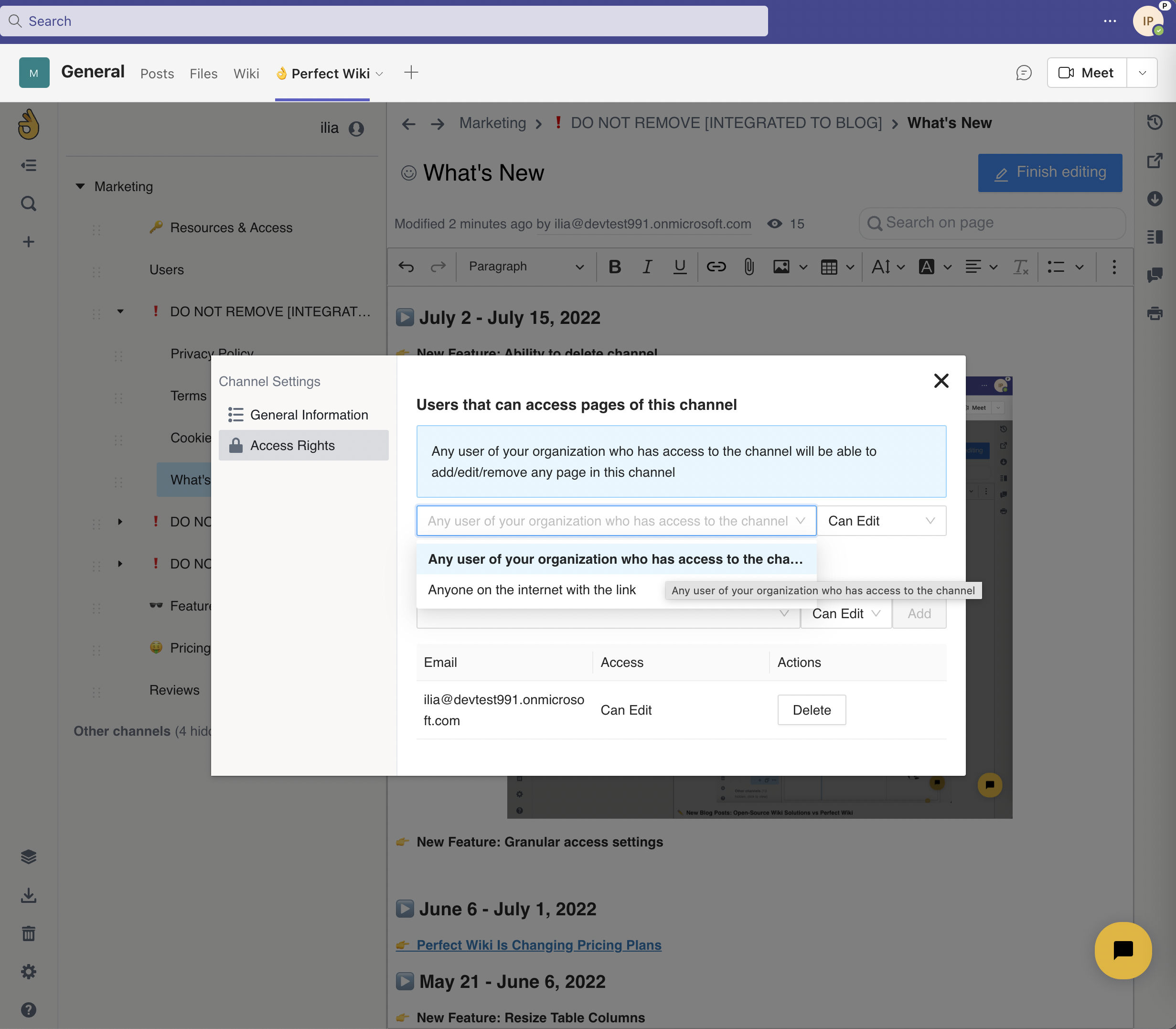 ▶️ June 6 - July 1, 2022
👉 Perfect Wiki Is Changing Pricing Plans
▶️ May 21 - June 6, 2022
👉 New Feature: Resize Table Columns
Use your mouse to drag column dividers in a table. Any images in your cells will scale automatically.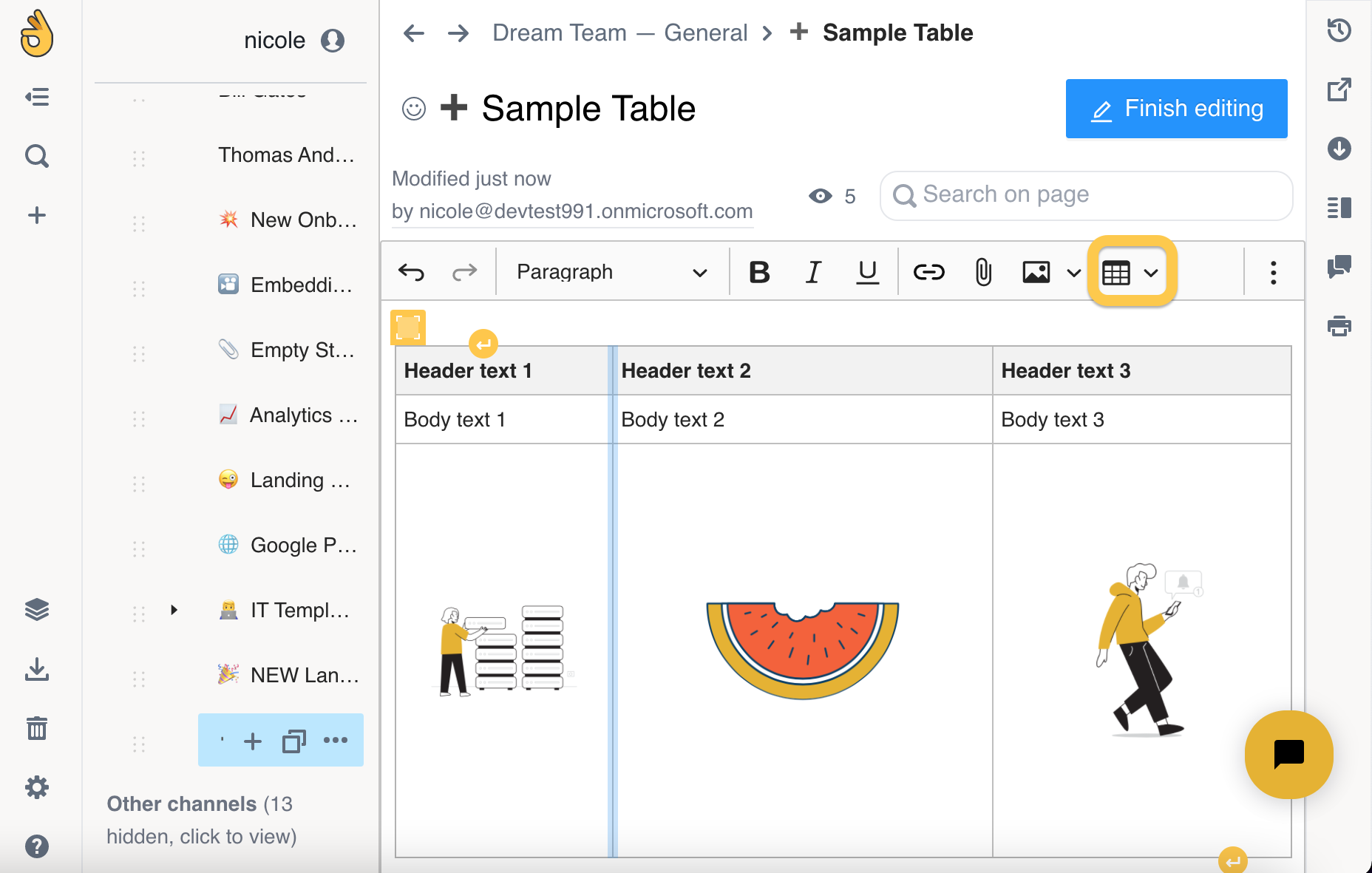 ✏️ New Blog Posts: Open-Source Wiki Solutions vs Perfect Wiki
DokuWiki vs Perfect Wiki: Comparing Usability and Features
MediaWiki vs Perfect Wiki: Comparing Usability and Features
✏️ Success Stories from Companies Around the World
ARhus Improves Their SOPs with Perfect Wiki
Jubilee Vega Increases Customer Trust with an FAQ Page in Perfect Wiki
▶️ May 13 - May 20, 2022
👉 New Feature: Autosave and Toggle Edit Mode
To prevent you from making accidental changes to documents, all pages will be in view-only mode until you click "Edit page." This will only apply to users that have editing permissions. And, of course, your pages will now autosave no matter what!
✏️ New Blog Post: How to Set Up a Knowledge Base in Microsoft Teams
In this article, we will cover the essential features you need to look for in a wiki, and why it's time to ditch web-based wikis and migrate all your company resources to your main work hub - Microsoft Teams.
👉 Interface Update
Your workspace will look a little different now! We moved the user menu to the side to you can see more pages at once, and the "Options" menu for each page is now on the far right. No changes to the features themselves!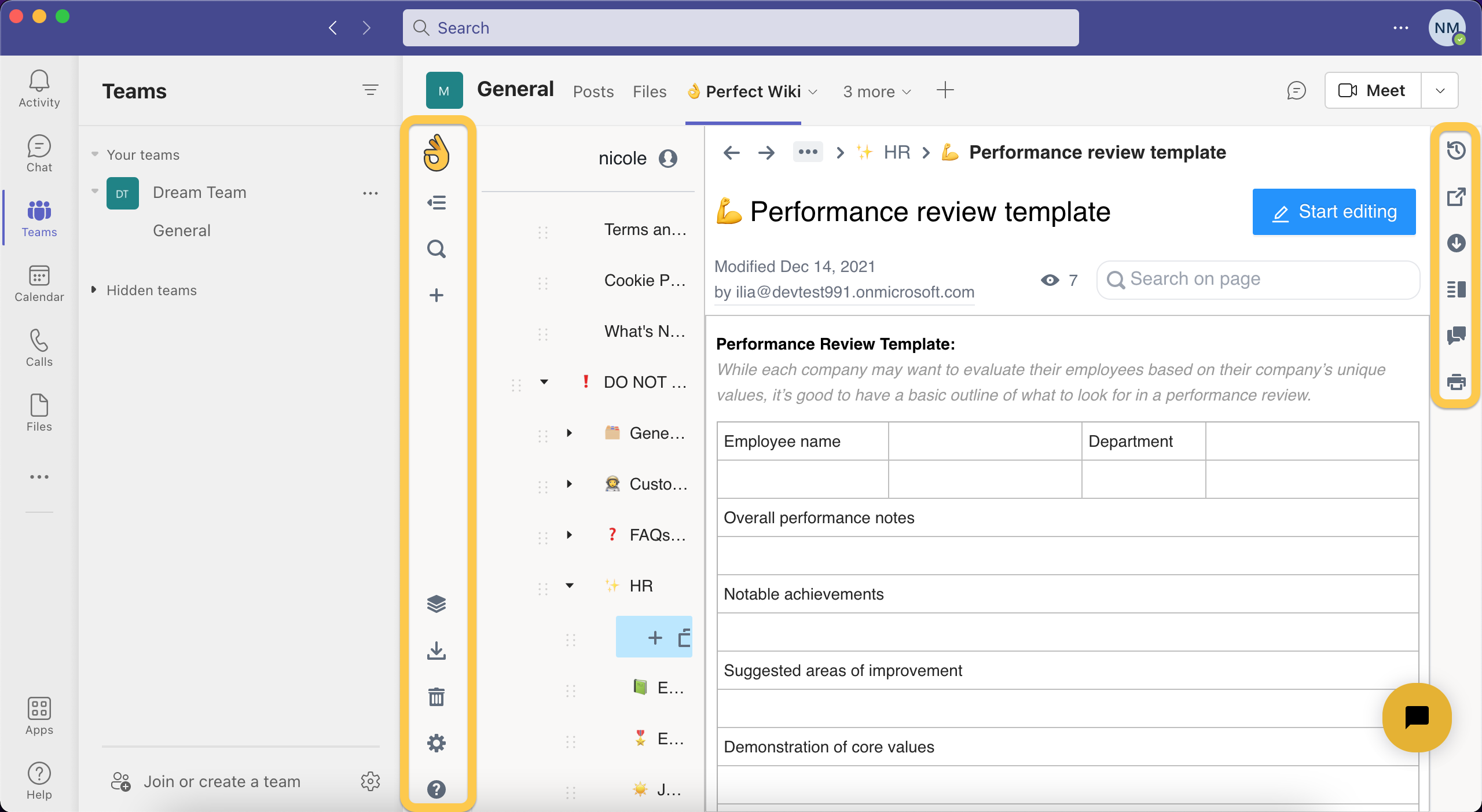 ---
▶️ April 29 - May 12, 2022
👉 New Feature: Emoji Autofill
You can now type out typical emoji combinations like :) , ;) , :* and they will auto-convert to visual emojis on your page 🙂😉💋!
✏️ New Blog Post: SharePoint as a Wiki Solution?
It's the talk of the town - could SharePoint be the knowledge management tool for MS Teams users? Find out what we think in our latest blog post, where we review the pros and cons of SharePoint.
✏️ Pricing Updates
We've changed our Pricing Page to reflect our new Plans and feature packages. These changes reflect our current user preferences, and the new Custom Plan adapts to your unique company needs!
👉 New Template: Customer Support
This page template has 3 sections: FAQs, Email Templates, and Customer Support Scripts. Everything you need to scaffold the most important information for your customer-facing teams. Find them in the "Templates" menu of your Perfect Wiki workspace.
👉 Interface Update: User Profile
We updated the user profile menu - you can now access settings, find support options, and learn about our latest feature updates all in one place.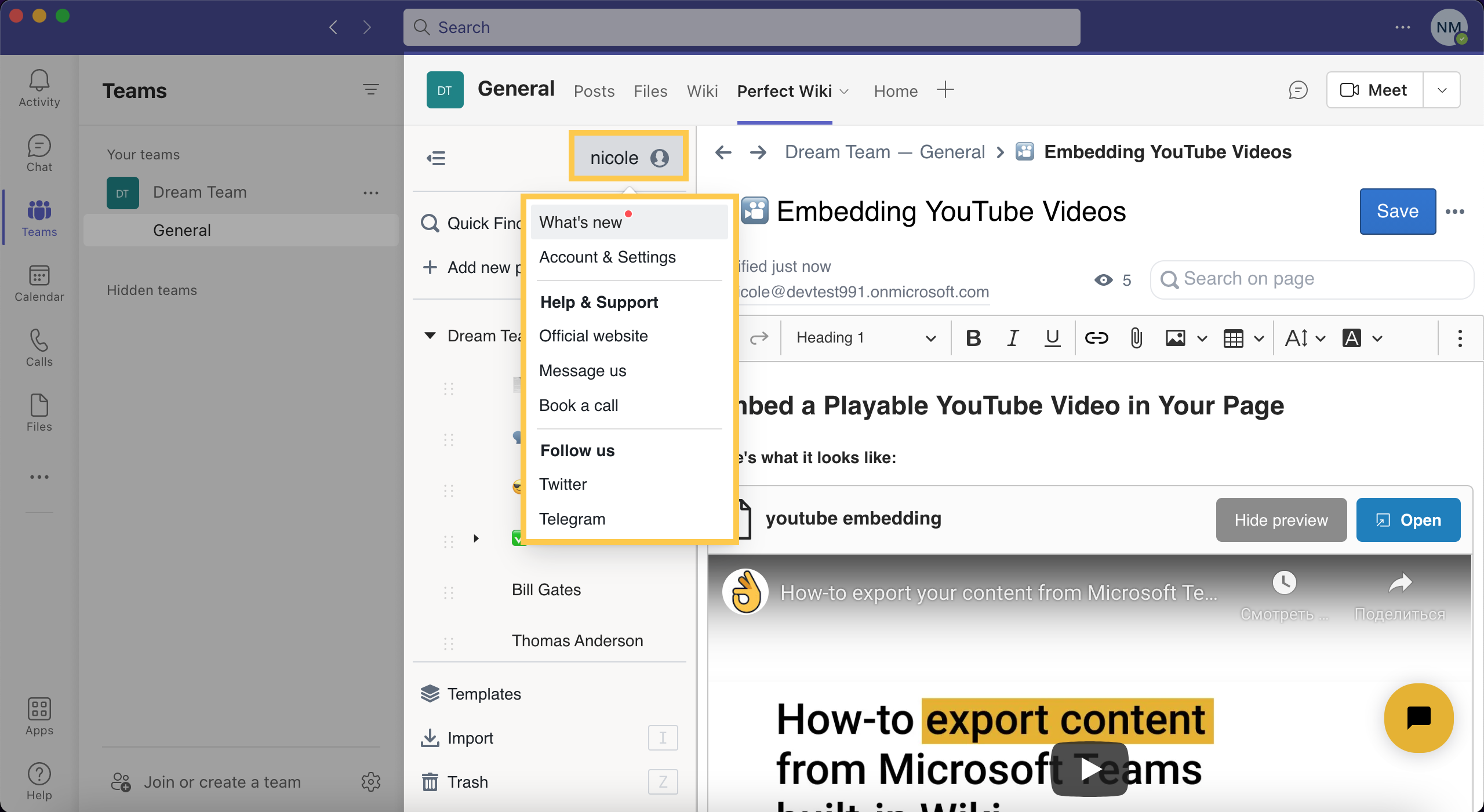 ---
▶️ April 15 - April 28, 2022
👉 New Feature: Preview documents on a page
See the whole document you attached right on your page! Preview works for documents in Word, PDF, Excel, and PowerPoint format.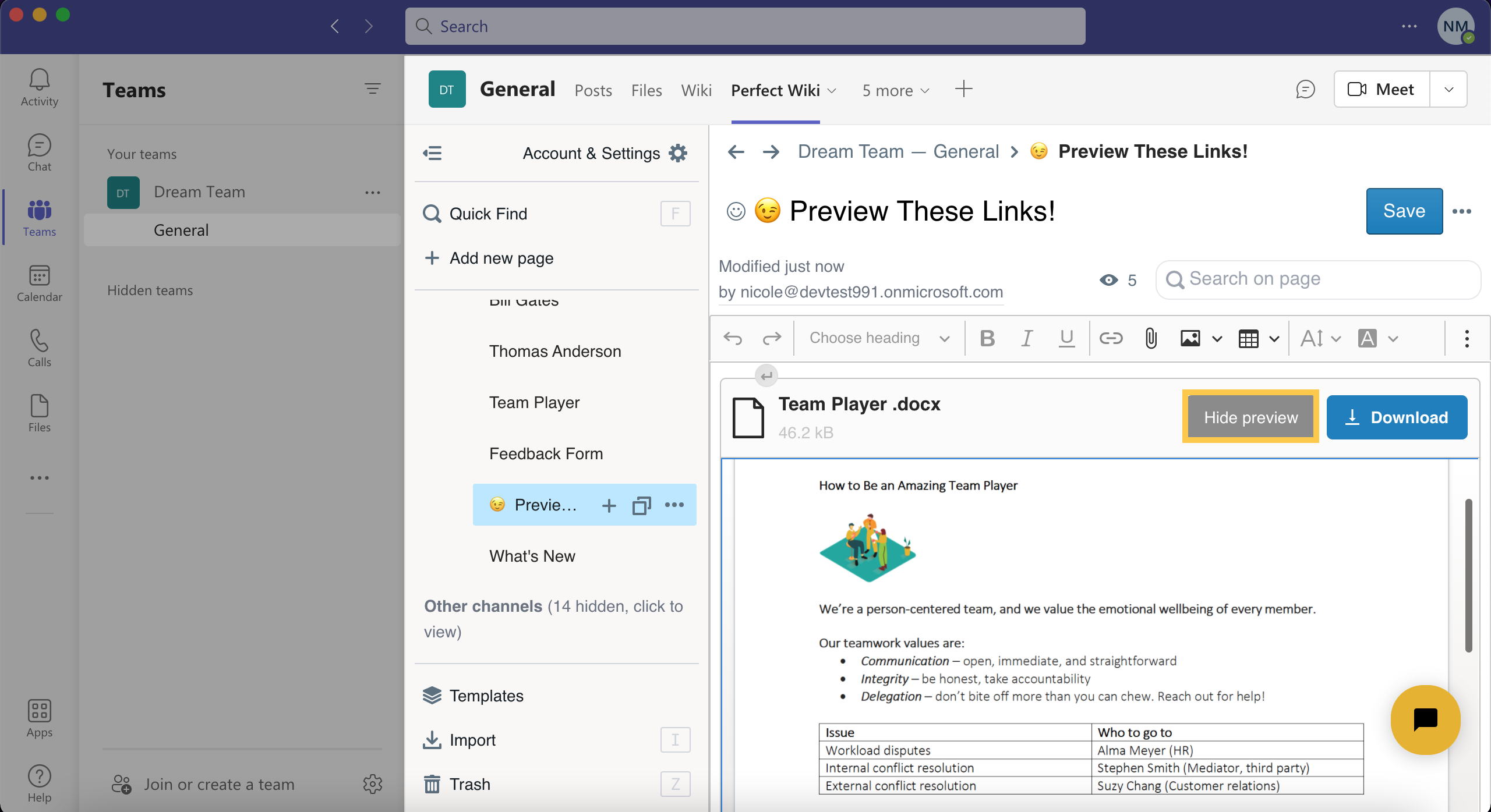 ✏️ New blog post: Top Wiki Apps for 2022
Our most comprehensive app review yet! We revisit the wiki apps we compared last year, and review 4 new ones, focusing on how they integrate with MS Teams.
✏️ New blog posts: Perfect Wiki vs other Wikis, 1-1 comparisons
Read these NEW short posts, where we compare three well-loved knowledge management solutions with Perfect Wiki features:
MS Teams Built-in Wiki vs Perfect Wiki
OneNote vs Perfect Wiki
Confluence vs Perfect Wiki
---
▶️ April 8 - April 14, 2022
👉 New feature: Access all pages from any channel
You can now open and edit ALL Perfect Wiki pages from inside any channel! No more switching between teams.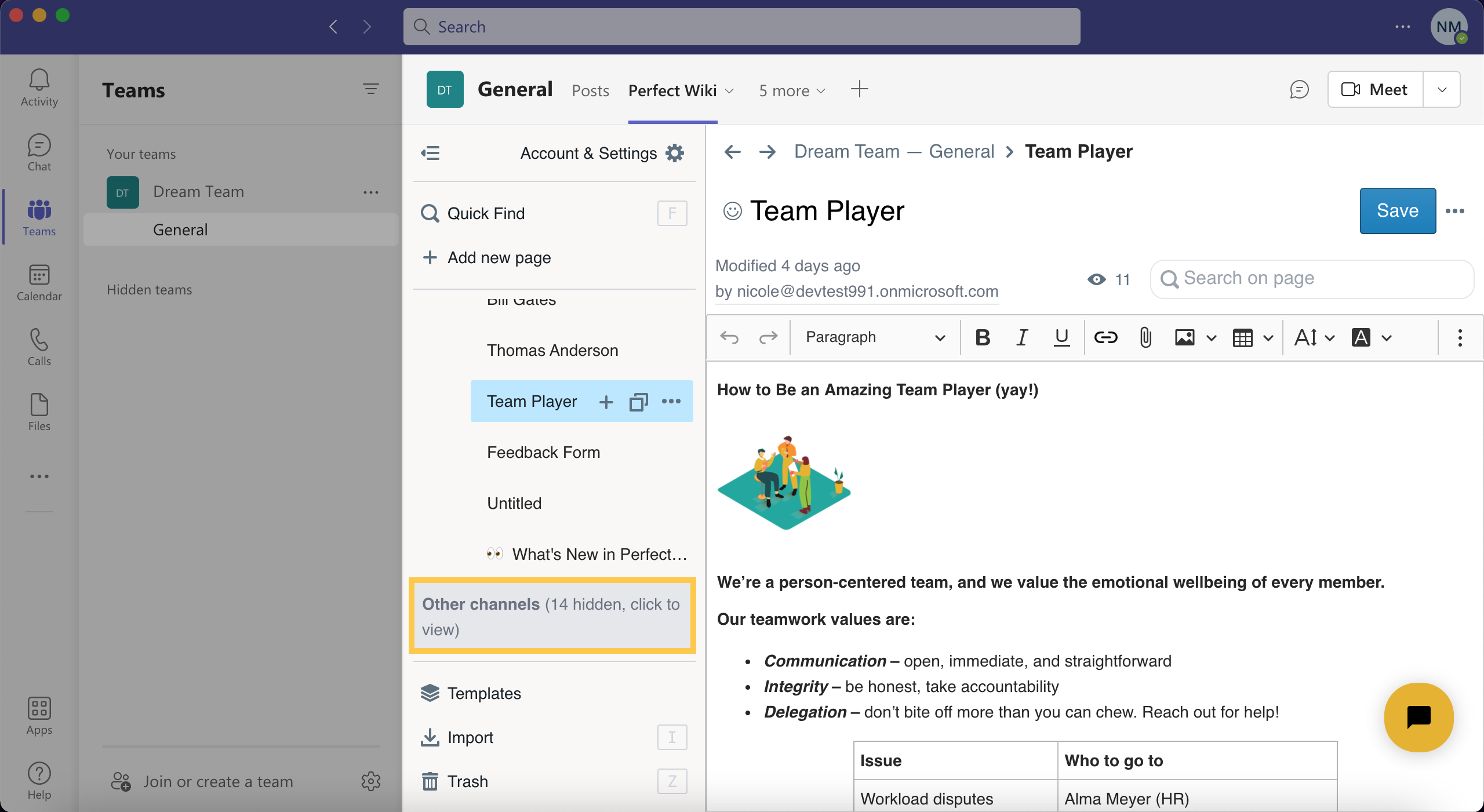 👉 New feature: Embed Google Docs and more
Attach Google Docs, Slides, Forms, and Sheets and view them right inside your Perfect Wiki pages! Learn how to embed files from your Google Workspace here.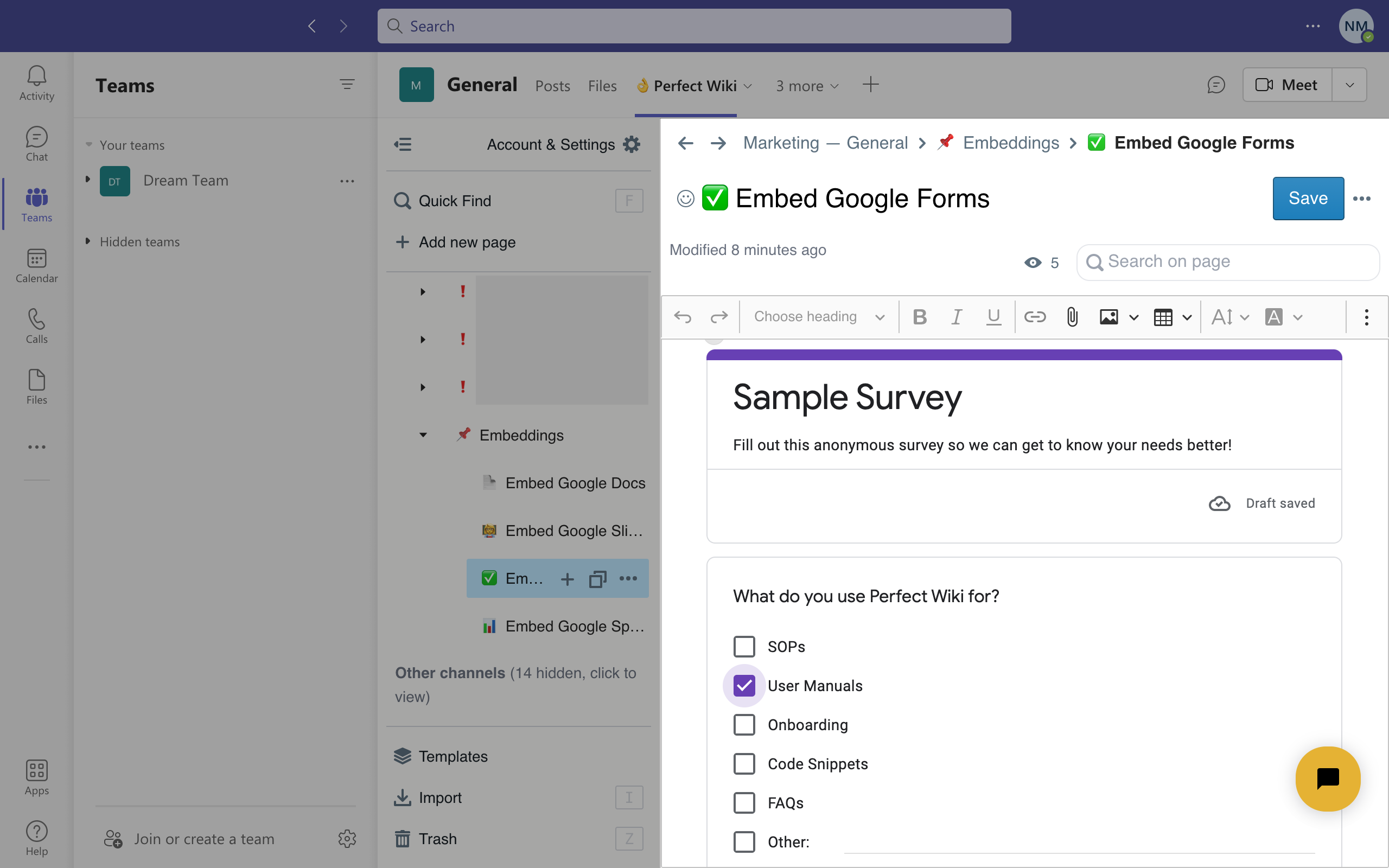 ---
▶️ April 1 - 7, 2022
👉 New feature: Upgraded trash bin
Our "Trash" window now shows you when and by whom a page was deleted. And we added some handy features - you can now search for a specific deleted page, restore or permanently remove a page.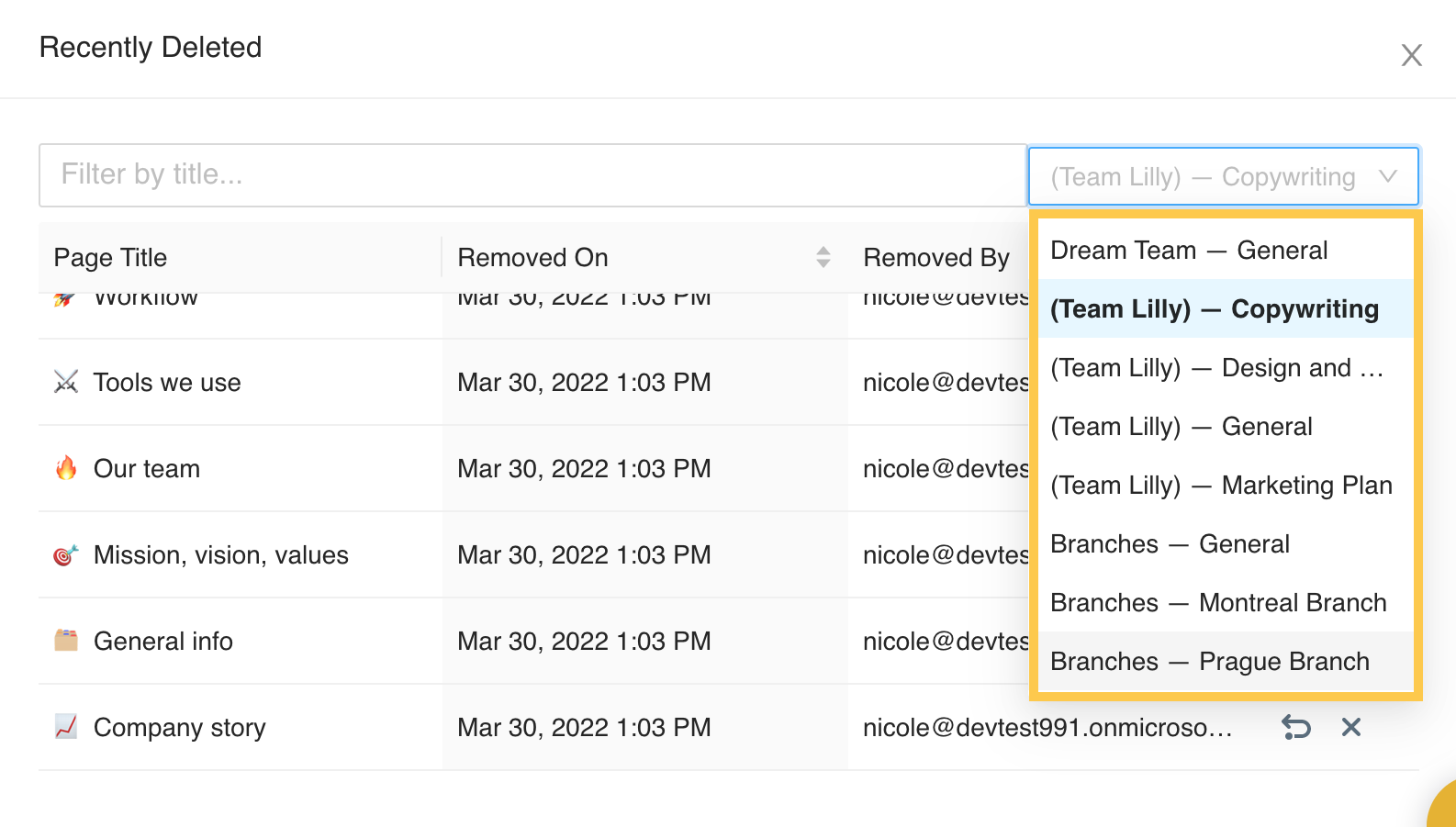 👉 New feature: Delete page with subpages
You can finally save time by deleting a parent page together with all its subpages!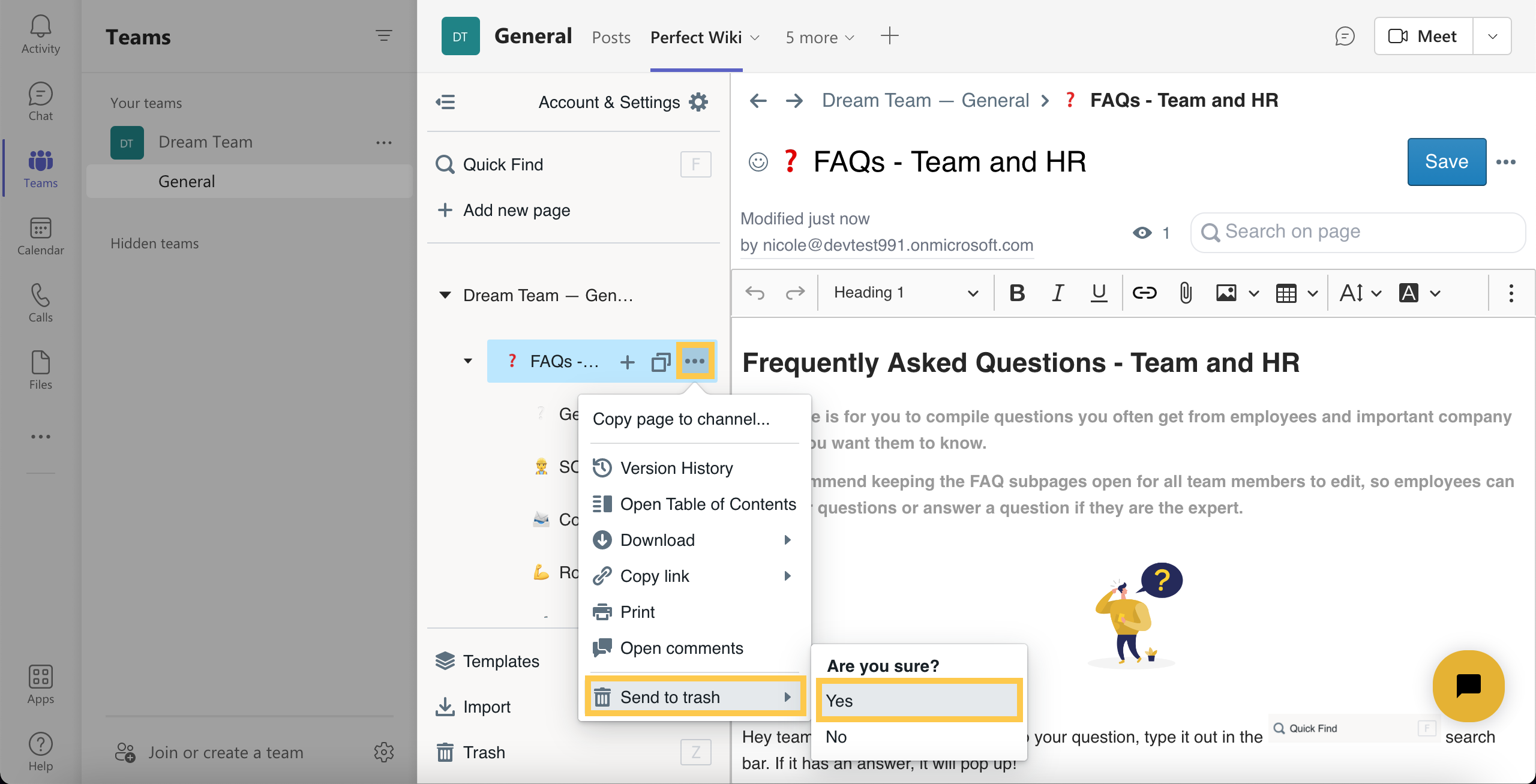 ✏️ Our top FAQs answered
What is a wiki? Can you lock a page from being edited? Get answers to these questions and more on our updated FAQ page.
---
▶️ March 25 - 31, 2022
✏️ New "About Us" page!
Meet the amazing team and read about how Perfect Wiki started here.
✏️ Our top performing blog post updated
Read "How to Export Your Content from the MS Teams Built-in Wiki" - we just updated our
well-loved blog post to reflect our newest version of the software.
👉 New template: Team and HR FAQs
Our "FAQs for Team and HR" page template is now available to all users! Go to "Templates" in your Perfect Wiki workspace to add it to your pages.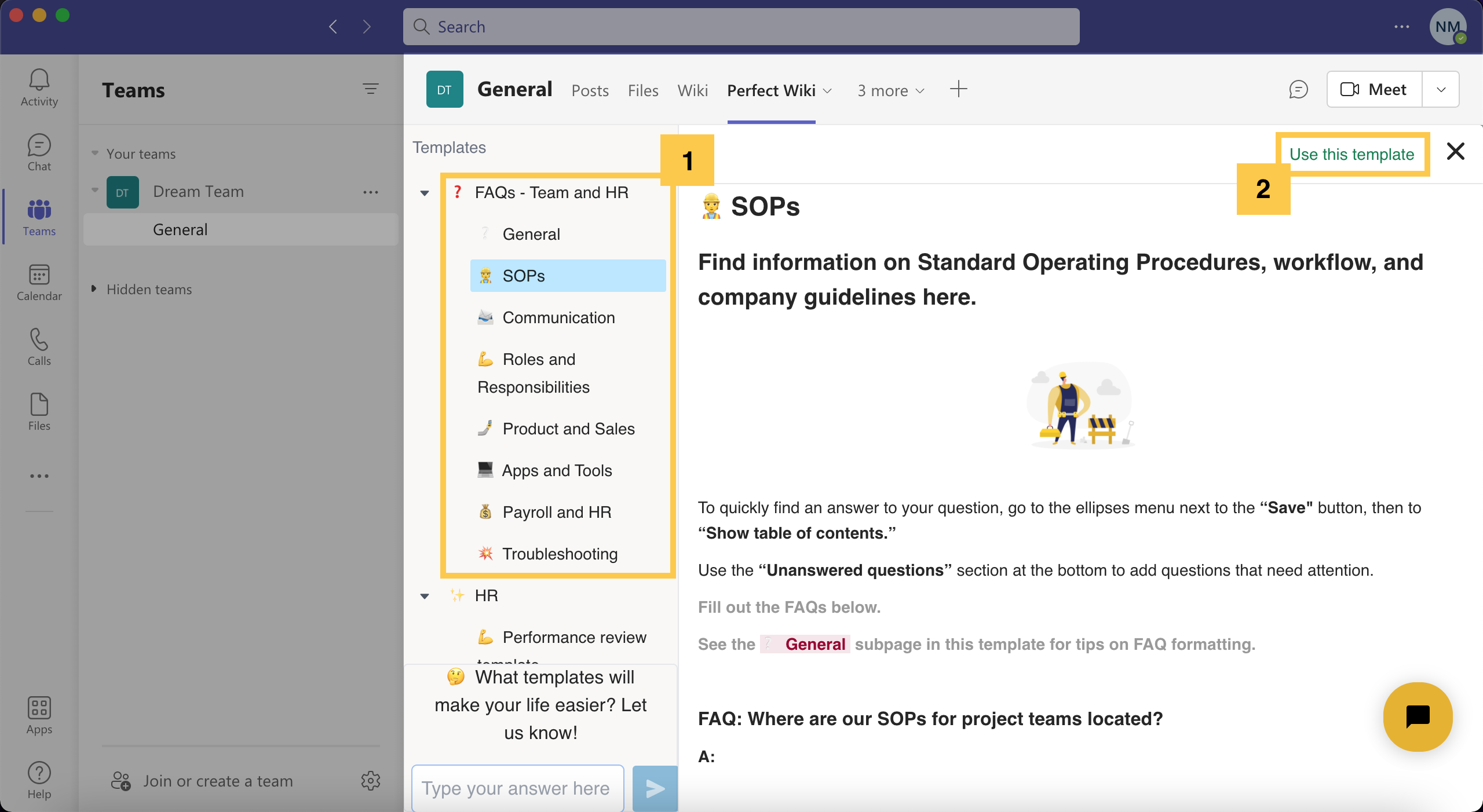 👉 New feature: Copy a page to other channels
You can now create a copy of any page (including subpages) to another channel.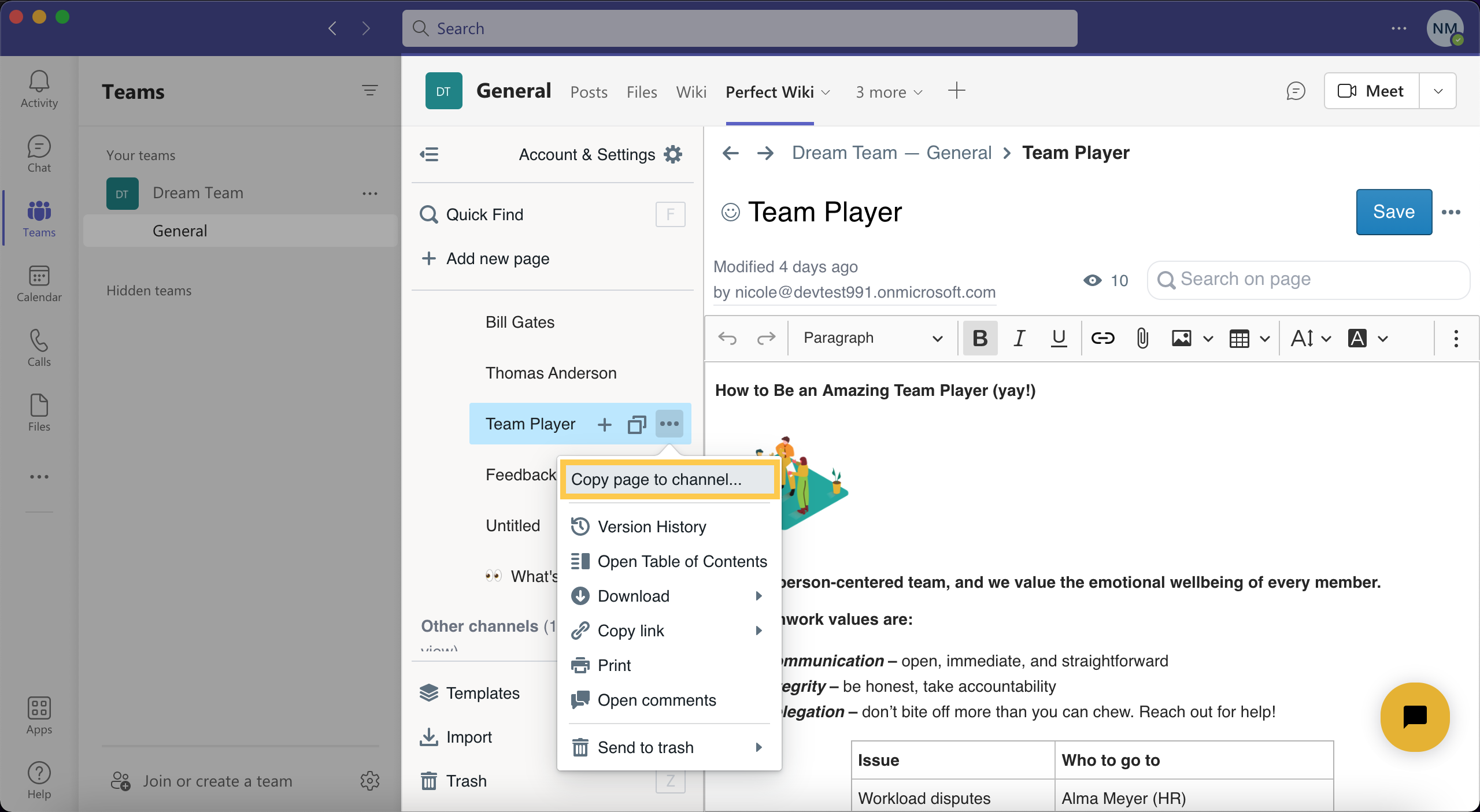 ---
▶️ March 18 - 24, 2022
👉 New feature: Member and admin access rights for Perfect Wiki
You can now assign Perfect Wiki users to either a member or an admin role.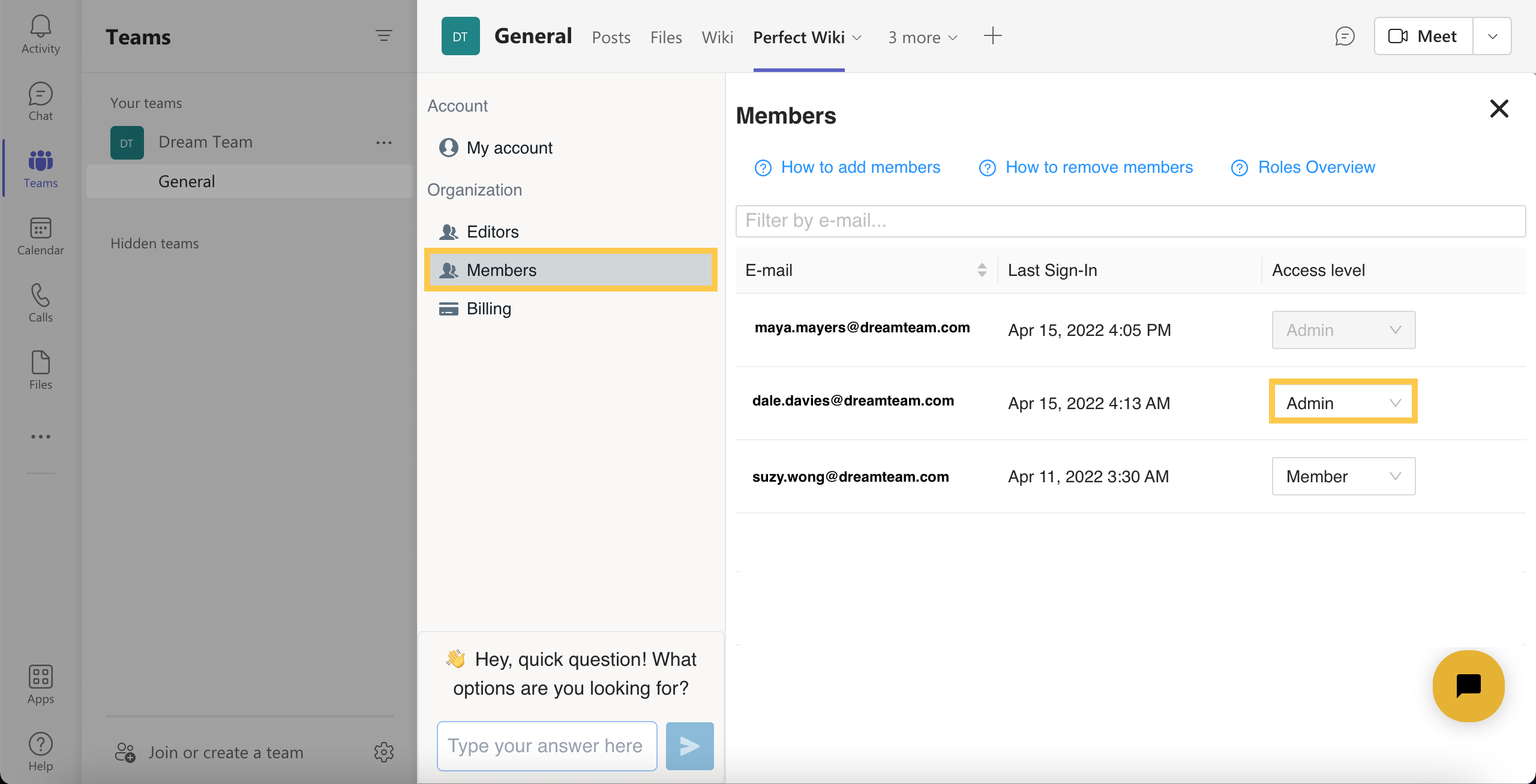 ✏️ Our top performing blog post updated
Read "How to Search Through the MS Teams Built-in Wiki" - we updated the article to reflect the latest feature changes in Microsoft Teams.
🌐 Social networks launched
Follow us on social media for real-time updates or to chat with us!